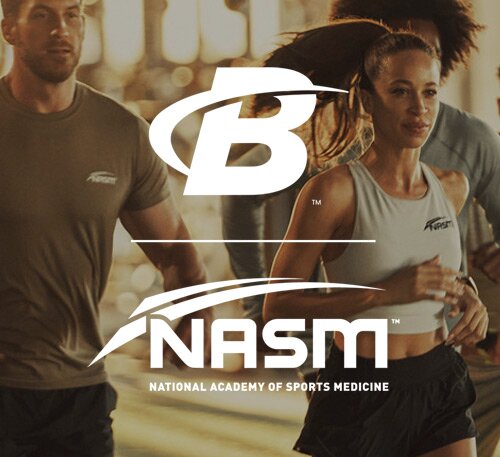 NASM's mission, reputation, and commitment to expert-driven strategies and learning innovations make them a trusted source for certifications and educational resources in the fitness industry. NASM's extensive experience spanning nearly four decades has allowed them to refine their science-based certifications and educational programs to ensure they are effective, modern, and forward thinking.
Your Future With NASM
NASM has the industry's best resources and top programs to shape you into the kind of trainer people are looking for in everything from personal training to group fitness, nutrition to bodybuilding. Each course is expertly designed to ensure you are as prepared as possible to pass your exam and start serving clients effectively from day one.
As part of our BBCOM Family you can save up to 50% off their most popular courses now!
Learn More
Certified Personal Trainer
Lay a foundation of fitness and gain the knowledge, skills, and credentials required to effectively work with clients.
Learn More
Certified Nutrition Coach
Learn how to create individualized meal plans tailored to your clients' specific goals.
Learn More
Physique and Bodybuilding Coach
Create effective and tailored fitness programs specifically for clients interested in physique development and bodybuilding.
Learn More
Gym2k.com Articles
Related posts