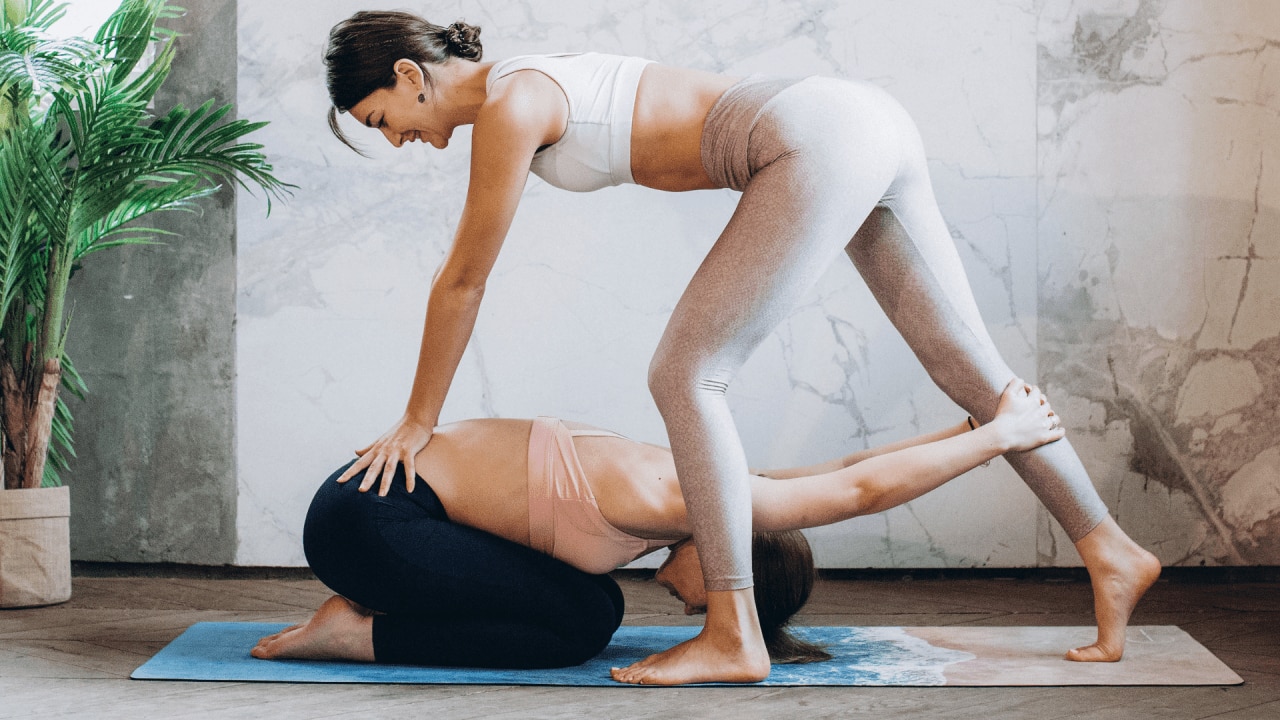 Is paying someone to help you stretch really worth it or can you achieve the same results at home? Here's why investing in your flexibility could be the key to keeping you injury-free in the long run.
Growing up in a leotard and tights, I've always been able to boast a good range of flexibility. When my classmates and I were lined up at the start of every school term and forced to undergo routine fitness evaluations, my performance in the 'sit and reach' test always made up for my embarrassingly low 'beep test' score.
No one could possibly question the importance of stretching for maintaining our mobility and staying injury-free. Still, a few at-home stretches in front of the TV at night might not be enough to keep things ticking along smoothly.
According to experts, unlocking your full flexy potential may require some professional help. As great as a living room downward dog and pigeon stretch may be for releasing muscle tension, the benefits of an assisted stretching session are unmatched.
Like what you see? Sign up to our bodyandsoul.com.au newsletter for more stories like this.
Putting a session to the test
To properly understand why so many people are signing up for designated stretching facilities, I went along to a session at StretchLab. The 50-minute sessions, guided by a certified 'flexologist', aren't about subjecting your body to eye-watering pain, but rather pushing your joints and tendons beyond their comfortable range in a safe and supportive manner.
The flexologist designated to me performed a brief evaluation of my mobility, posture and joint symmetry. My areas of concern (tension in my shoulders and neck) were hardly surprising, given my desk-bound day job and texting affinity. Working methodically across the major muscle groups, my flexologist started with my bigger muscle groups, such as my hamstrings, quads and glutes.
What struck me about the entire process, was the interesting technique the flexologist carefully applied throughout each stretch. While their role was to essentially apply pressure against the muscle, at no point in the session was I able to totally switch off and let them do the hard work for me.
Each stretch fluctuated between sustained holds against the muscle, and deep breathing incorporating resistance (me pushing against the flexologist's weight, only to release back into the stretch with newfound range each time).
Why one-on-one makes a difference
While the session itself was super informative and thorough, the full extent of the benefits associated with assisted stretching goes far beyond feeling more limber. Brad Walker, stretchLab's Chief Stretch Adviser, shares why setting aside time to properly stretch with an expert is so important for our overall health.
"Each stretch session is customised to the individual needs of the client, focusing on flexibility restrictions, imbalances, or targeting specific muscle groups," he says. "Also, having a therapist do the stretching for you means that the therapist can get you into stretch positions that you can't get into by yourself."
As the stretch expert explains, improving your flexibility, mobility and range of motion leads to an overall increase in ease of movement, and a reduction in joint pain and muscle tightness.
"Other benefits include improved posture and body awareness; improved coordination and circulation; increased energy and improved relaxation and stress relief," adds Walker.
Assisted stretching isn't just for the injury-prone
More Coverage
Though it's easy to assume assisted stretching would be a service designed to help people who lack mobility and flexibility, Walker explains people from all areas of life have found the sessions useful.
"At StretchLab many of our regular clients are athletes, sportspeople, and people who already have high levels of flexibility," he says, adding that clients with an already extensive range of motion report a reduction in the susceptibility to soft tissue injuries like muscle and tendon strains as a result of their sessions.
"Gentle stretching should be a daily activity, but a more intense stretching session should be conducted at least two or three times a week," explains Walker, comparing the practice to any form of physical activity. "If you want to improve your flexibility, then you need to work on it on a regular and consistent basis."
Related posts